ˇ§LOVE CAN SAVE TAIWANˇ¨
ˇ§Love can save Taiwanˇ¨ said Catholic leader, Cardinal Paul K.S. Shan during his conversation with Dalai Lama before 1,000 audiences in Kaoshiung City. He pointed out that in the aftermath of Typhoon Morakot, donations from different people and places were rushing in as gesture of love and kindness.
ˇ@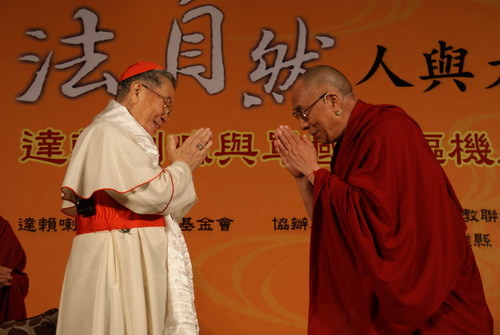 The Tibetan spiritual leader visited Taiwan on ˇ§humanitarian concernˇ¨ to console the people and to pray with them. Both religious leaders agreed that the goal of religious dialogue is to teach mutual tolerance, respect and cooperation among peoples.
The Dalai Lama donated U$50,000 to the victims of Typhoon Morakot that hit southern Taiwan on August 8, 2009