Pope Benedict XVI Encouraging Unity on Environmental Action
1/13/12 Christina Cernansky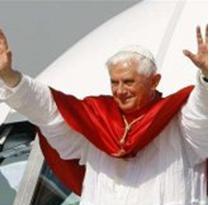 On January 9, 2012 Pope Benedict XVI addressed the recent natural and ecological disasters and the importance of cooperation on the issue of environmental quality in the 2012 message to the Vatican¡¦s diplomatic corps.
¡§We cannot disregard the grave natural calamities which in 2011 affected various regions of South-East Asia, or ecological disasters like that of the Fukushima nuclear plant in Japan. Environmental protection and the connection between fighting poverty and fighting climate change are important areas for the promotion of integral human development. For this reason, I hope that¡Kthe international community will prepare for the UN Conference on Sustainable Development (¡¥Rio + 20¡¦) as an authentic ¡¥family of nations¡¦ and thus with a great sense of solidarity and responsibility towards present and future generations.¡¨
The unity Pope Benedict XVI is encouraging is one which will be necessary for the ¡§Rio + 20¡¨ UN conference and all environmental initiatives to be successful. The religious community is one of great strength and numbers which is a tremendous asset to the movement vital to our future. Stewardship of the earth is something which is not discriminatory, simply a fulfillment of the goodwill of religions. From the non-denominational Blessed Earth ¡§Hope for Creation¡¨ Earth Day simulcast to the Catholic Climate Covenant, religions embrace the call to care for the environment we live in. No matter the reason for your interest in environmental stewardship there are many actions you can take on an individual or community level.
To start out, Yale University has a great directory of climate change statements from world religions so that you can check out the official statements of yours and other religions. On the Earth Day Network website we have a large amount of resources for you to get started with your journey to caring for the environment. There you will find organizations, publications including downloadable sermons, graduate fellowship opportunities, films, music and much more; all sorted by denomination.
The environment is just one issue that you can focus your stewardship efforts on that will benefit from the strong communities religions offer. Utilizing your religious congregation and making a stand for environmental action is something that cannot wait, since yours and your children¡¦s future rely on actions that happen now.
10 Things You Can do to Care for the Earth
¡@
¡@